Pepwave Surf SOHO

4G LTE/3G Small Office / Home Office Wi-Fi Router
Sorry, this product is no longer available, please contact us for a replacement.
Overview:
The Pepwave Surf SOHO is a professional-grade Wi-Fi router designed for home office, small business, and power users. With support for 4G LTE/3G, cable, DSL, and other broadband connections, the Surf SOHO makes it possible to deploy fast and secure 802.11abgn Wi-Fi hotspots anywhere. The Surf SOHO also features built-in long-range and optional external antennas, business-class VPN, cellular usage monitoring, and URL blocking, making it an ideal networking solution for a wide range of mobile and office uses.
Wi-Fi That Goes Anywhere You Do.

Got a cellular signal? You've got Wi-Fi. Just connect a USB 4G LTE/3G modem and create instant wireless networks anywhere. The Surf SOHO works with 150+ USB cellular modems from carriers worldwide, as well as most cable, DSL, and satellite modems.

Bandwidth monitoring and tracking.

The Surf SOHO also features a configurable bandwidth usage monitor with automatic email notifications. Whether you have a limited data allowance from your provider or just want to be able to monitor how much data you're using and who is using it, these tools will keep you in control.

Optional Wi-Fi Antennas for More Range.

The Surf SOHO's convenient onboard antennas offer outstanding range for most applications. But RVers, mobile professionals, event organizers, and others who need more can easily boost the Surf SOHO's range with optional external antennas. Simply plug any supported antennas into the RP-SMA connectors and you've got high-speed Wi-Fi that goes the distance.

Selectable Dual-Band Wi-Fi. 802.11bgn or 802.11an.

In addition to offering 802.11bgn Wi-Fi, the Surf SOHO supports the 802.11an standard to give you the highest speeds, greatest range, and lowest interference possible.

Fast and Secure VPN Connectivity From Any Device.

The Surf SOHO features a built-in PPTP VPN server that allows up to three simultaneous VPN connections to keep documents, financial data, and other sensitive information safe. Windows, OSX, Linux, iOS, and Android are all supported, so you can connect securely from any device, including your smartphone and tablet.

PepVPN. Next-Generation VPN.

In addition to standard PPTP VPN, the Surf SOHO offers PepVPN, an exclusive Peplink secure tunneling technology that fully supports dynamic IP environments and NAT. Plus, it's 100% compatible with SpeedFusion and other Peplink technologies, ensuring fast and flawless connections to all your Peplink/Pepwave equipment.

Application QoS Makes Data Quality a Priority.

Application QoS delivers crystal-clear phone calls, flawless teleconferencing, and the assurance that mission-critical data takes priority at all times, even when network traffic is at its heaviest.

Router Utility App for iOS/Android.

The Router Utility app provides information about the device status, events, bandwidth usage, and more. With push notifications enabled, the app can even alert you if a connection fails or if the router loses power or reboots.
WAN

USB 4G / 3G Modem Support
Support for PPPoE, Static IP, DHCP
Support for Dynamic DNS services
WAN Link Health Check
Bandwidth Allowance Monitor

Security

Stateful Firewall
DoS Prevention

Complete VPN Solution

PepVPN

Site-to-Site VPN
256-bit AES Encryption
Pre-shared Key Authentication
Dynamic Routing

PPTP VPN Server

Networking

NAT and IP Forwarding
Static Routes
Port Forwarding
Many to One, One to One NAT
NAT Pool
SIP ALG, H.323 ALG
UPnP, NAT-PMP
WINS Server

Advanced QoS

Application Prioritization
Custom Application QoS

WAN Failover

LAN

DHCP Server for LAN Clients
Extended DHCP Options
DHCP Reservation
DNS Proxy for LAN Clients

Device Management

Web Administrative Interface
Command Line Interface
Router Utility Mobile App
Email Notification
Active Client & Session Lists
Bandwidth Usage Statistics
Syslog Service
SNMP v1, v2c and v3

Cerfications
Product Views: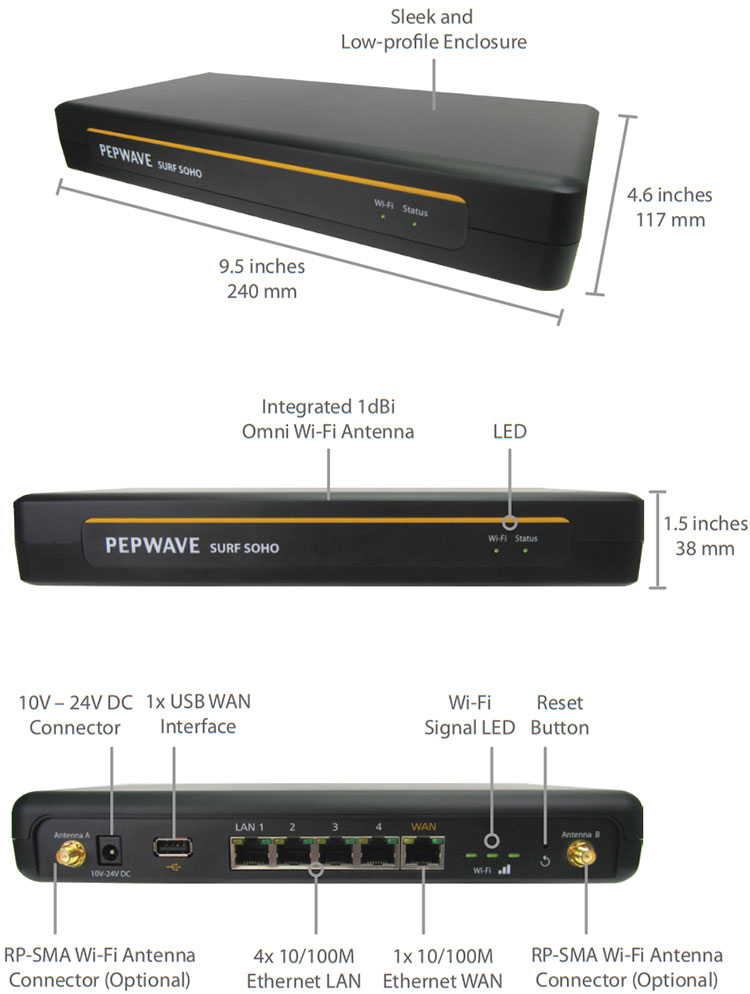 Specifications:
Technical Specifications:
Surf SOHO
WAN Interface
1x 10/100M Ethernet Port
1x USB Interface
LAN Interface
4x 10/100M Ethernet Ports
802.11b/g/n or 802.11a/n 300 Mbps Wi-Fi Access Point
Wi-Fi AP Operating Frequency
2412 − 2472 MHz or
5180 − 5825 MHz
Wi-Fi Antenna
Integrated 1dBi Omni Wi-Fi Antenna
(Switchable to RP-SMA Connector for External Wi-Fi Antenna)N/A
Number of Simultaneous PPTP VPN Users
3
Number of PepVPN Peers
2
Power Input
Device: 10V − 24V DC
AC Adapter: AC Input 100V − 240V, DC Output 12V
Power Consumption

13W (max.)

Dimension
4.6 x 9.5 x 1.5 inches
117 x 240 x 38 mm
Weight
0.79 pound
358 grams
Operating Temperature
-14° - 149°F
-10° - 65°C
Humidity
15% - 95% (non-condensing)
Certifications
FCC, CE, RoHS
Warranty
1-Year Limited Warranty
Supporting
Pricing Notes:
All prices displayed are Ex-VAT. 20% VAT is added during the checkout process.
Pricing and product availability subject to change without notice.