Pepwave MAX BR1 ENT

Enterprise Grade Router with LTE Failover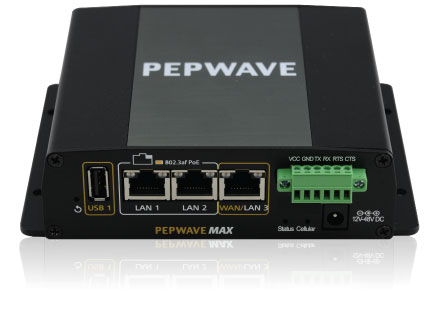 More pricing below, click here!

Please Note: All prices displayed are Ex-VAT. 20% VAT is added during the checkout process.
Overview:
LTE Highspeed Broadband Router
The BR1 ENT delivers blazing 200Mbps router throughput with automatic failover to LTE and comes without Wi-Fi, making it an ideal choice for deployments that demand high performance, and outstanding reliability. It is also Verizon XLTE certified.
Highspeed Broadband with LTE backup
Stay online when connections fail with instant automatic failover. Connect a high-speed primary line and a backup LTE connection, and the BR1 ENT will seamlessly switch between wired and cellular links as needed to keep your connection stable and fast.
SpeedFusion Hot Failover.
MAX BR automatically re-establishes your IPsec VPN connection on lower priority link when your primary WAN fails. Your VPN stays up, and you stay seamlessly connected.
Meet Strict Security Compliance
Got a strict no-Wi-Fi security policy? Configured without Wi-Fi, the BR1 ENT is a great choice for deployments with compliance requirements
Certified for Tough Deployment
In addition to rugged metal enclosure, BR1 ENT has certifications on: Shock and vibration resistance (EN 61373:1999 IEC 61373:1999) RF Port Lightning Immunity (ITU-T K.20 (+/- 1.5 kV)) Railway Applications (EN 50155) Electromagnetic Compatibility (EN 61000)
Application:
Government/Military - Uninterrupted Communication and Resource Access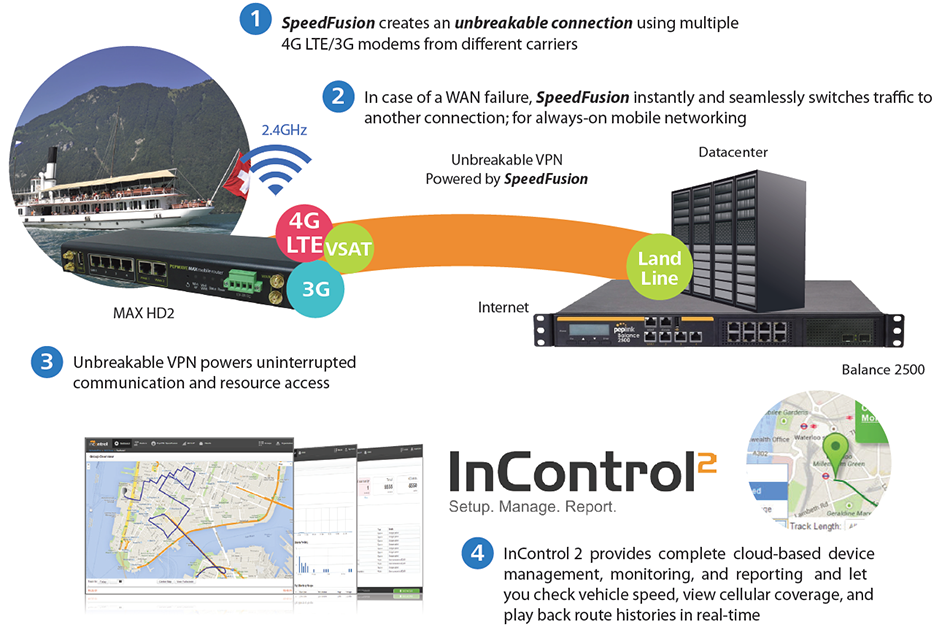 Enterprise - Upgrade Existing Network Infrastructure with LTE Backup

Specifications:
Software

WAN

Support for PPPoE, Static IP, DHCP
WAN Link Health Check
Bandwidth Allowance Monitor
Support for Dynamic DNS services
WAN Port Convertible into LAN Port

LAN

DHCP Server for LAN Clients
Extended DHCP Option
DHCP Reservation
DNS Proxy for LAN Clients
VLAN on LAN Support

Networking

NAT and IP Forwarding
Static Routes
Port Forwarding
Many to One, One to One NAT
NAT Pool
SIP ALG, H.323 ALG
UPnP, NAT-PMP

Complete VPN Solution

PepVPN/SpeedFusion Hot Failover

Site-to-Site VPN
Hot Failover
256-bit AES Encryption
Pre-shared Key Authentication

IPsec VPN (Network-to-Network)

Advanced QoS

Individual Bandwidth Limit
Application Prioritization

SIP, HTTPS, VPN QoS
Custom Application QoS

Global Positioning System

Integrated GPS
Device Location Map
Location Tracking Data
Fleet Management with InControl 2

Security

Stateful Firewall
DoS Prevention
Web Blocking

Device Management

Web Administrative Interface
Command Line Interface
InControl Cloud Management
Email Notification
Active Client and Session Lists
Bandwidth Usage Statistics
Syslog Service
SNMP v1, v2c and v3

Package Content

MAX BR1 ENT

MAX BR1 ENT
12V2A Power Supply
1x GPS Antenna
2x 2dBi 4G LTE Antennas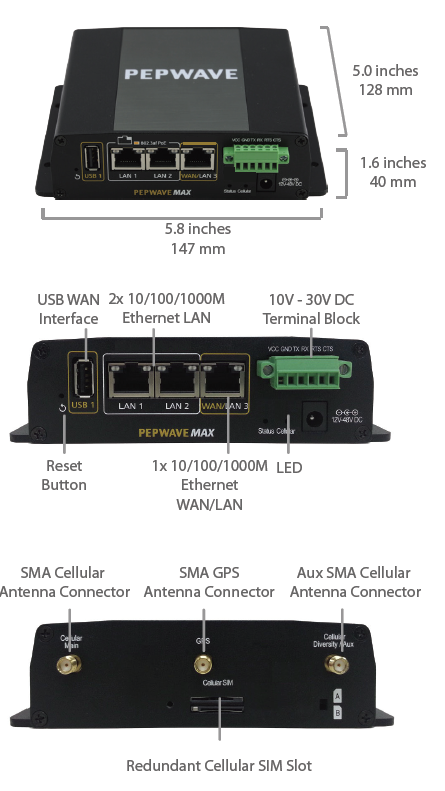 All specifications are subject to change without notice.
Model Comparison:
Model
MAX BR1
MAX BR1 ENT
Ethernet WAN Ports
1 (FE)
1 (GE)
Ethernet LAN Ports
2 (FE)
2 (GE)
Embedded 4G LTE/3G
1
1
SIM Card Size
Mini-SIM (2FF)
Mini-SIM (2FF)
USB WAN Modem Port
1
Wi-Fi WAN 1
Wi-Fi AP 1
Wi-Fi Standard
802.11b/g/n 150Mbps
Transmit Power (2.4GHz)
25dBm
Transmit Power (5GHz)
Recommended Users 2
1-25
1-25
Router Throughput 3
100Mbps
200Mbps
VPN Functionality
PepVPN/SpeedFusion Hot Failover
SpeedFusion Bandwidth Bonding
Number of PepVPN SpeedFusion Peers
2
2
PepVPN/SpeedFusion Throughput (No Encryption)
40Mbps
100Mbps
PepVPN/SpeedFusion Throughput (256-bit AES)
20Mbps
60Mbps
Central Management
InControl Cloud Management
GPS Fleet Management
Hardware Features
Enclosure
Compact, Indoor Metal
Compact, Indoor Metal
PoE Output
802.3af PoE Output*
Terminal Block Power Connector for
Mobile/Vehicular Deployment
Dimensions
(Height x Width x Depth)
1.6 x 5.8 x 5.0 inches
40 x 147 x 128 mm
1.6 x 5.8 x 5.0 inches
40 x 147 x 128 mm
Weight
0.96 pound
435 grams
0.96 pound
435 grams
Operations
AC Adapter
AC Input 100V-240V
DC Output 12V, 2A
AC Input 100V-240V
DC Output 12V, 2A
Power Input
DC 10V-30V 2A
DC 12V-48V 2A
Terminal Block
DC 10V-30V 2A
DC 12V-48V 2A
Power Consumption
Max.: 16W, Typical: 11W, Min.: 8W
Max.: 16W, Typical: 11W, Min.: 8W
Operating Temperature
-40° - 149°F
-40° - 65°C
-40° - 149°F
-40° - 65°C
Humidity
15% - 95% (non-condensing)
Certifications
FCC, CE, RoHS
RF Port Lightning Immunity:
ITU-T K.20 (+/- 1.5 kV)
Certifications - Motor Vehicle
E-Mark
Certifications - Rolling Stock
Shock and Vibration Resistance:
EN 61373:1999 IEC 61373:1999
EN 50155: Railway Applications - Electronic
Equipment used on Rolling Stock
EN 61000: Electromagnetic Compatibility
Warranty
1-Year Limited Warranty
1 The frequency range for 802.11b/g/n Wi-Fi is 2412−2472 MHz.
2 Recommendation for sizing purposes only. No software restrictions applied.
3 Router Throughput is based on Ethernet frame sizes of 1280 or 1518 bytes. Actual performance can vary across different networking environments.
* Optional PoE Activation Kit is required to activate 802.3af PoE Output.
Pricing Notes:
All prices displayed are Ex-VAT. 20% VAT is added during the checkout process.
Pricing and product availability subject to change without notice.
Pepwave MAX BR1 ENT
Accessories
PoE Activation Kit
Includes 1x 48V Power Supply. Enables 802.3af PoE Output Ports (PoE License automatically applied after kit purchase)
Extended Warranty
1-Year Extended Warranty for MAX BR1 ENT
2-Year Extended Warranty for MAX BR1 ENT